Web Hosting Packages
Web Hosting Features
Order Web Hosting
Domain Registration
Web Master Tools
Web Design Templates
PC & WebSite Software
Email Setup
FTP Setup
Cpanel Support
MySQL Support
---
Extreme Performance:
Dual 2.4ghz xeon servers, with hyperthreading. Making four CPU's and providing 9.6 ghz processing power. Plus, each server is outfitted with high performance ECC RAM and SCSI hard drives.
Extreme Reliability:
Fully redundant and certified Cisco network, with 99.999% reliability, using BGP routing and six back bone providers.
---
Access to these goodies if you sign up today >>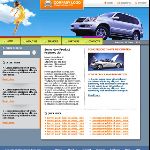 550 Web Design Templates at below wholesale cost
---

Free Easy to Use Cpanel
---


Free 128 bit SSL
---


Web Design Software and PC Software at below
wholesale cost
---


Free Auto Install Scripts
Pixelroad provides nearly 50 scripts that can be installed with a click of a button. It's really that simple too! Just login to your control panel and select the script you would like to install.

<--Full list of scripts on left
---